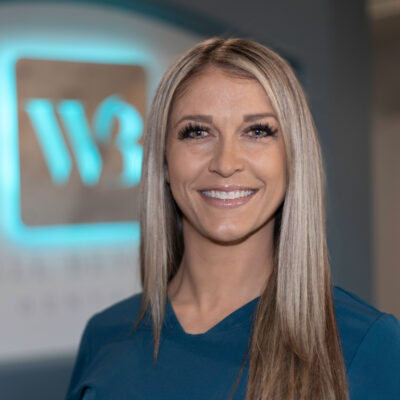 Aimee has been a proud dental hygienist at Well Beyond Dental for over three years. In her free time, she loves spending time with her husband and their three fur babies, working out, and eating Mexican food.
She chose to be in the dental field in high school after she was assigned to write a report on a career path that had interested her. After shadowing a dental hygienist and seeing how they were able to build personal relationships with their patients and help with their confidence, she knew this was the career path for her.
During hygiene school, she became a part of the Global Brigades Organization where they traveled to Honduras to give free dental care to remote villages throughout the country. This helped her form a vision in her head of the type of dental hygienist she wanted to be, and working at Well Beyond Dental has helped her fulfill that vision.
One thing that she loves the most about working at Well Beyond Dental is that they put their patients needs first and have the opportunity to offer them more than just Reno dentistry services. She feels lucky to be a part of this team that allows her to go well beyond for all of our patients.